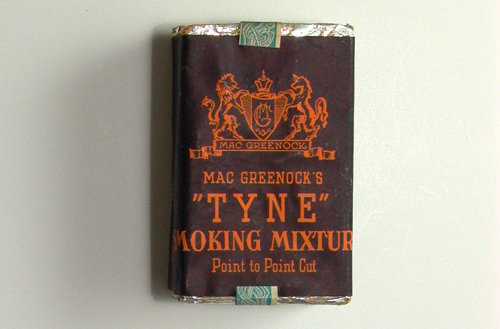 black and orange
JP Williams
great typography speaks for itself.
i expressed that i did not collect tobacciana. well, it seems i was wrong. as i dig through my collections, i discover piece after piece of cigar or cigarette related items. here is just one example of a wonderful package of tobacco: mac greennock's. I love the phrase "point to point cut."black and orange. beauty at its most simple.
attending flea markets and paper fairs has always been something i have found interesting, although i never fully understood this passion until i was in one place for an extended length of time. new york city has afforded me such a time period. this past september marked my twentieth year in the big, hard apple. before moving to new york, i dated my wife during the summer of '89. i had finished yale and was interviewing in new york. before i moved to the city, i invited her to stay with me in new haven and we visited the connecticut countryside. our first sleepaway weekend was to pittsville, mass. to visit the handcock shaker village. i had never been and i saw it as an opportunity to drive up route seven, check out the myriad antique shops and eat local food. it was poking around in one of these shops that i discovered this package. fifty cents was the right price. a wonderful inspiration that made it to my shelf but was completely lost on my "date." I learned a lot on that trip up route seven, and i'm still learning from this package.